2019 Plans
With the Christmas season vastly approaching, that can only mean that we will be starting the New Year very soon as well. I swear the older I get, the years pass by like a nap you take after school.. "well would you look at that, it's 830 PM and I have an essay due at 11:59". I wouldn't go as far to say my year was per se hectic, but it obviously had its ups and downs. With that being said, what do you hope to accomplish in the New Year? I'm personally excited to graduate from the RTV program here at Seneca and since I'm currently applying for a Bachelor in Film and Media Production, I will hopefully be starting a new path in that realm. As I mentioned, Christmas is on its way so let's get ready! Enjoy this picture of my dog Belle from last Christmas!
November 29, 2018
Fantastic Beasts: The Crimes of Grindelwald review
Us Mokrzewski's have a tendency at being a bit late when hopping on the bandwagon of certain subjects. However, we like to do it in fashion! I checked out the new Fantastic Beasts movie last weekend thinking, this is gonna be a throwaway sequel to the pre-Harry Potter series aaaaaaand it was pretty decent. Not a favourite but this is one of those movies that is just a gateway to either a finale or it just serves as a stepping stone for the series.
The movie overall was convoluted but still interesting, I feel that some fans will anticipate future sequels while others may give it the Star Wars treatment; boycott the series altogether and come to the consensus that the series has gone to an over-budgeted, overly produced, Hollywood endorsed piece of garbage. Is it a terrible film? I wouldn't say so; Eddie Redmayne and Johnny Depp gave amazing performances. Both actors brought depth to their characters, you might as well call him Johnny Depth because his character has so much of it…. get it? Moving on, the visuals are extraordinary and the action was entertaining. My favourite thing about this movie was the genius presentation of Grindelwald as one of the most intriguing anti-heroes since Thanos in Avenger: Infinity War.
Onto the bad parts of the film, the film had so many supporting characters, it made Batman and Robin from 1997 look like the Addams Family. Some may cite this as being nit picky but there were an assload of awkward camera shots, I imagine they were attempting to give a first person visual however, if you're gonna give the view a first person perspective, it's probably a good idea not to add 10 camera cuts in the span of 30 seconds while there is dialogue going on. Many people were happy to see Jude Law play a younger Dumbledore however, as happy as I am to see Jude Law grace the silver screen, he really wasn't there that much. By the end of the movie, the viewer is left with too many questions and most of them unanswered. I thought that if M. Night Shyamalan directed a Harry Potter movie, this is how it would turn out. I'd give it a solid 7/10 but don't let my verbal extravaganza discourage you, it's one of those movies that you have to see in order to come to a specific conclusion.
source: The Daily Dot
November 25, 2018
The 19+ Rule
Some of you reading this are likely to have experienced this: You're out with your friends and you're en route to see a concert (local bands, up and coming acts, etc.), you get to the bar/venue and they ask for your ID. Your underage ass looks dumbfounded not knowing it was a 19+ show and the guy running the doors turns you away despite paying for a (likely non-refundable) ticket. Is this rule necessary? In the grand scheme of things, obviously. I get it if a bar is strictly doing it but, for a concert? A concert where a band may have driven hundreds of kilometres to get to and if the draw is overwhelmingly crappy, it kinda looks bad if one or all bands have very little in attendance, not to mention they're the ones who will have to be paying for gas and possibly have to stay a night in a crappy motel. That one person can make a huge difference for the performers.
Personally, I find it pointless for concerts to be 19+ because consider this: someone has a fake ID and they get into a bar, say later on they get into some sort of accident. Who's blamed? Unfortunately the bars are however, they SHOULD NOT be responsible for other people's "stupidity". This is provided someone actually gets into some sort of trouble. People should take responsibility for their actions. If it's the bars fault for people getting drunk and doing something stupid, then all car accidents are because of the manufacturers of the car. If you make a concert 19+, you eliminate profit for both the venue and the bands on the bill. I think a change in the liquor laws is in order don't you? With streaming services being so common, touring/playing live is one of the only ways for your act to make money in the industry. Agreed?
My band Bare Bones performing live at the Rockpile
November 17, 2018
Blog/News List
Bohemian Rhapsody review
It's no secret, biopics can be pains in the rear end for filmmakers; you have all this pressure from the public to make an amazing film then add the pressure of having to please the fans of your work and fans of the person (or people) you're making a film on. Coming off its opening weekend, Bohemian Rhapsody was at the top of the box office, admittedly there wasn't any legitimate competition (Nutcracker and the Four Realms? A Matrix reboot probably would've done better.) I got a chance to see a late showing of the musical phenomenon and it's probably one of my favourite movies I've seen this year. In what was a super-hero and horror dominated year, it's definitely the best drama that's been released internationally (excluding movies from TIFF).
I got chills in the first few seconds after hearing a sample of Freddie's voice and knew instantly; this would be an epic film. After probably the first half hour, I was particularly marvelled by Rami Malek and Gwilym Lee's resemblance to Freddie Mercury and Brian May as well as the rest of the cast. Aidan Gillen played a small role as Queen's manager John Reid and all I'll ever know him for is his performance as Littlefinger from Game of Thrones: "I shuuuupoooooooose.. you must be Queen?!" It's a really good thing the theatre was almost empty, my sister and I were laughing like a pair of idiots! Apart from the performances, the movie has been criticized for its historical inaccuracies, which for the most part, I found unnecessary. The story is really difficult to tell because the only drama the band had was related to Freddie Mercury's sexuality and him having AIDS. Making certain aspects of their careers more dramatic was perfectly logical because that's what films are all about; they're a story. I can bet money that if the filmmakers didn't change bits of history for the band, it wouldn't have come out as special as it did. I'm giving Bohemian Rhapsody a 7.5/10, it was a perfect tribute to Queen and Freddie Mercury as it showcased the bands perseverance and solidified Freddie Mercury as what he always aspired to be: a legend. If you haven't seen this movie, you'll come out of the movie loving Queen more than you already do.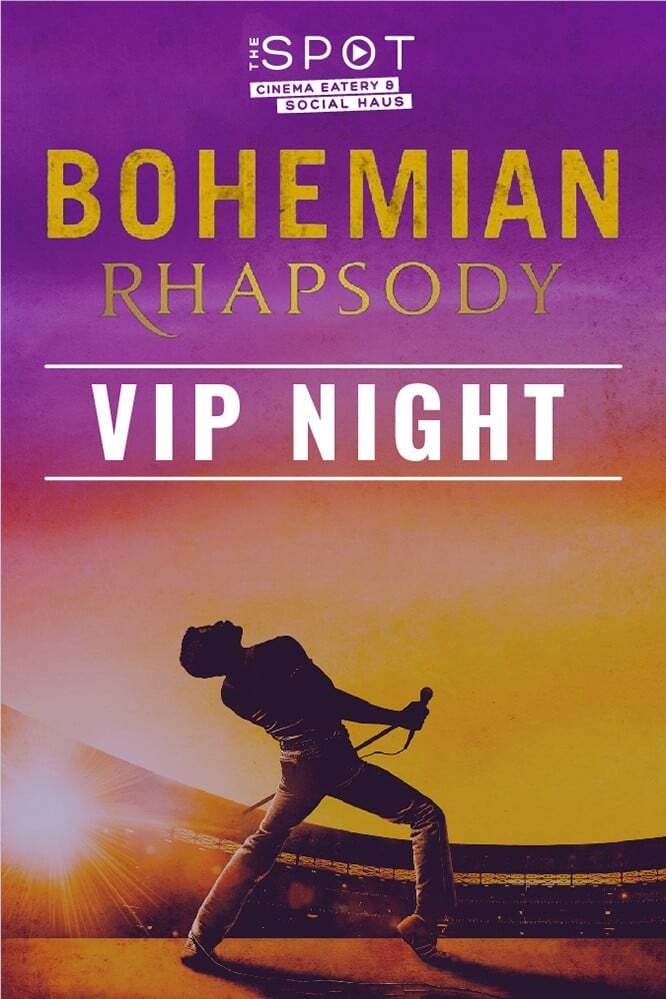 source: movienewsletters.net
November 8, 2018
Nick Cave and the Bad Seeds @ Scotiabank Arena
What's up bros! Welcome to my blog! If you want to get to know me very easy, its quite simple. One of the main things I love in life is music; I'm a singer, bass guitarist, guitarist, I'm in two bands, love musicals, theatre and going to concerts. My most recent concert experience was this past Sunday when I saw Cigarettes After Sex and Nick Cave and the Bad Seeds at Scotiabank Arena.
Personally, I was going in with more anticipation for CAS since I knew their material. It was a shame they played such a short set, their ambient and dreamy sound was so pleasant to hear in the arena. Though their music is structurally simple, they have such a signature sound despite having only one album. I can't wait to hear more from them in the future as they progress as an up and coming band.
Up next was the main event of the night: Nick Cave and the Bad Seeds. I, honestly, didn't go into this show with a lot of knowledge of the band. I only knew them from Peaky Blinders and eventually I did decide to give them a listen…. after I bought the tickets. Don't let this mislead you, they put on a HELL of a performance. Nick Cave is one eccentric and physically active man, especially for the age that he's at. By the end of their 3 hour performance, I was marvelled by his musical diversity. I had 4 new songs that I saved in my search history just so I could add them to my playlist. His music dabbled in rhythmic blues music and melodic folk and despite being around for over 30 years, he brings a new meaning to "noise rock".
I normally have the tendency of going into concerts not knowing much about specific bands and most of the time I develop a bigger interest for whatever "new" band I might be seeing but, this concert was something completely different and it was most definitely worth going to.
October 29, 2018